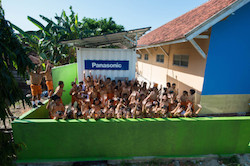 Panasonic Corporation has developed an interesting offshoot of solar energy: Power Supply Container. The stand-alone photovoltaic power package was installed for the National Elementary School Karimunjawa 01 in Karimunjawa Island, Jepara District, Central Jawa Province, Indonesia. The Power Supply Container is equipped with 12 Panasonic "HIT(R)240" solar modules that the company said has high conversion efficiency and can generate approximately 3 kW of electricity. It can also provide stored power from 24 built-in lead-acid storage batteries (17.2 kWh as total).
Karimunjawa is an area where electricity is available at night using diesel generators. However, in the daytime these generators are stopped and no electricity can be used by the residents of the village. As no power for the village during the daytime interferes with administrative and commercial activities, improvement of the educational environment had been the top priority for the island. To solve this social issue, Koperasi Pundih Artah, which received Grant Assistance for Grassroots Human Security, Institute of Business and Economic Democracy Foundation (IBEKA) and Panasonic launched a project for improving the educational environment, by supplying and installing the Power Supply Container, under the cooperation of Jepara District and the Embassy of Japan in Indonesia.
To celebrate the introduction of "daytime electricity" a handover ceremony was held with Koperasi Pundih Artah and IBEKA. Now, during school hours, children can use LED lighting fixtures, ceiling fans and audiovisual educational materials using PCs and TVs. When there are no classes, the electricity is sold to nearby areas through a management association of the Power Supply Container to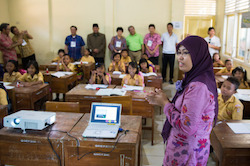 contribute to activation of the regional community and improve the regional electricity infrastructure.
IBEKA is giving support for establishing management associations in Karimunjawa for independent operation of power supplies as well as provides training and supports for their operation, management and maintenance to achieve a sustainable power supply in Karimunjawa. Panasonic will continue to work with groups in Indonesia to bring more Power Supply Containers to areas without reliable electricity.