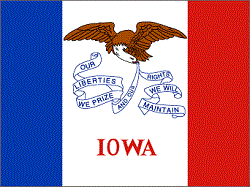 Following up on last week's story of an un-named company planning on building a plant in Iowa to make a key biodiesel ingredient, that company has now been identified. This article in the Mason City (IA) Globe Gazette says New Heaven Chemicals Inc. will start construction at a plant to make sodium methylate at the Manly Terminal in northern Iowa immediately.
"This will be the company's very first United States location and we are so proud to be a partner with them on this project," [Teresa Nicholson, executive director of the Winnebago-Worth Counties Betterment Council] said.
Construction is anticipated to completed by the end of 2014. Manufacturing start-up is planned for January 2015.
New Heaven Chemicals is a newly incorporated Iowa company with locations in eight countries worldwide.
Total capital investment in the Manly site is approximately $8.85 million, with a planned expansion in the next three years, Nicholson said.
At start-up, the company will manufacture 12,000 tons of sodium methylate. The planned expansion will triple that capacity, Nicholson said.
This should be of particular interest to the large biodiesel manufacturing market in Iowa and Southern Minnesota as this will be the first sodium methylate plant in the area. The only other sodium methylate manufacturers are located in Indiana, Texas and Alabama.
The Iowa Economic Development Authority and the local county supervisors have approved a combination of tax credits and financial assistance to the company.