Lincolnland Agri-Energy is celebrating its 10th anniversary this year. The Palestine, Illinois-based ethanol plant is now producing 57 million gallons of ethanol per year and employs 41 local residents. In 10 years, the ethanol plant has produced 470 million gallons of ethanol. Over the weekend, Lincolnland Agri-Energy hosted an open house for the community to celebrate its milestone.
Since they began operating in 2004, Lincolnland has actively taken steps to develop and expand their facilities. They broadened into corn oil extraction, added a fermenter, and implemented selective milling technology.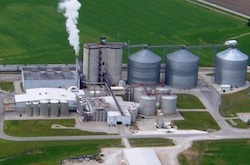 "We are proud to produce cost-saving, renewable ethanol that furthers America's energy independence. Lincolnland's ethanol production facility has helped revitalize the community, create demand for our local farmers, and save Illinois drivers money at the pump," said Eric Mosbey, general manager of Lincolnland Agri-Energy. "This is an exciting day for everyone involved in making Lincolnland a success. The past 10 years of production would not have been possible without the support of our stakeholders, the dedication of our employees, and the cooperation of the local community. We look forward to another 10 years."
The ethanol plant has fostered an active presence in the local community by hosting elected officials including then-Senator Barack Obama (D-Ill.) and Congressman John Shimkus (R-Ill.). Both elected officials were given a warm welcome as they learned more about ethanol production and the impact it has on the local community. The company also partners with the local junior college to offer internships and donate equipment so students can learn more about the ethanol production process. Lincolnland supports many local programs and is a long-time sponsor of the annual Labor Day rodeo in Palestine, Ill.
"What started as an idea by a group of local farmers has turned into a successful ethanol plant that is run with integrity and gives back to the local community. The hours, days, and years of dedication can be seen in every aspect of this business today," said Bob Dinneen, president and CEO of the Renewable Fuels Association. "This truly is a day to celebrate and honor the 10 years of hard work that has gone into making this business a success."