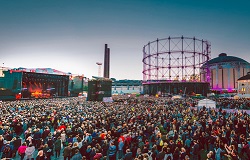 A European music festival will keep it green this year with some help from renewable diesel. This news release from Neste Oil says the company's 100 percent NEXBTL renewable diesel will reduce greenhouse gas emissions from this year's Flow Festival held August 8-10 in Helsinki, Finland by 90 percent.
"NEXBTL renewable diesel fits in very well with Flow's aim of reducing its emissions, as it can result in up to 90% lower levels of greenhouse gas emissions than conventional fossil diesel," says Kaisa Hietala, Neste Oil's Executive Vice President, Renewable Products. "We are very pleased that our product can help events like Flow offer an exciting program of music and other material, while at the same time helping reducing their impact on the environment.
"This is yet another example of the broad range of opportunities that our NEXBTL products have to offer for cutting emissions on the road, in the air, and at events."
"We are very satisfied that we will be able to generate all the electricity needed at this year's Flow Festival using renewable energy sources," says Flow's Production Manager Emilia Mikkola, who is also responsible for the event's environmental profile. "Through our partnership with Neste Oil, we will be able to use NEXBTL renewable diesel in our generators for the first time instead of fossil fuel."
Neste Oil's NEXBTL diesel can be produced from just about any vegetable oil or waste fat.