The first ever Champion of Change award was bestowed upon Michael Peevey, president of the California Public Utilities Commission during Intersolar North America taking place this week. The award was given in conjunction with the California Solar Energy Industries Association (CALSEIA) for Peevey's outstanding commitment to supporting renewable energy at the national and international levels.
"For three ye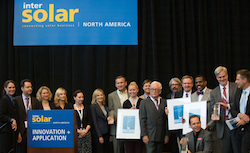 ars, the Intersolar AWARD program has singled out landmark projects in North America that represent major technological, economical and environmental achievements," said Markus Elsässer, CEO of Solar Promotion International, an organizer of Intersolar North America. "This year's winners demonstrated how well designed systems that utilize the latest technologies to deliver cost-effective solar energy could benefit a variety of customer requirements. These projects, from off-grid applications to mid-sized systems to utility-scale installations, highlight solar energy's versatility and show that the industry is well on its way toward maturation."
The Intersolar AWARD winners for solar projects in North America were judged on pioneering character, uniqueness, economic benefits, benefits for the environment and society, degree of technical innovation and proof of innovation. An independent committee of industry experts chose three award winners:
First Solar won the award for its Agua Caliente Solar Project, a 290 MW project that is currently the largest fully operational PV power plant and covers 2,400 acres in Yuma County, Ariz. First Solar developed, engineered, constructed and operates the system, which was designed to minimize land disturbances and to maximize stability, reliability and cost-effectiveness. This project revolutionizes how solar integrates with the power grid.
Solaire Generation Inc. won the award with the Whole Foods Market Solar Carport. The 325-kilowatt installation is New York's largest solar carport, and, in addition to generating enough energy to meet 20 percent of the store's demand, the eye-catching project showcases how solar power can be integrated with other green initiatives such as rainwater harvesting and brownfield re-development. The carport has a capacity to recover 30,000 gallons of rainwater and is educating shoppers with its unique design of both the practical and aesthetic potential of solar.
Princeton Power System won the award with its distinctive Alcatraz Island Microgrid System. Created as a response to failures of conventional energy sources, Alcatraz is a pioneer in energy independence. Princeton Power Systems cooperated with the U.S. National Park Service and created a system that provides more than 80 percent of the island's electricity needs for the one million visitors that come every year. The 400kW system creatively utilizes prison spaces, such as old generator rooms and rooftops, and integrates cutting-edge technologies without compromising the historic quality of the site and making the system invisible to the outside viewer.
"By expanding our AWARD program to honor individuals alongside technologies and key projects, we are highlighting the people and the ideas that drive the industry," added Klaus Seilnacht, CEO of FMMI International GmbH, an organizer of Intersolar North America. "The solar industry needs advocates like Michael Peevey. We are excited to continue to recognize the people who have helped make North America one of the largest solar markets in the world."