Syngenta is joining forces with several Iowa FFA chapters during the upcoming American Ethanol 200 presented by Enogen on Friday, July 11-12, 2014. The team will be helping to increase awareness of the benefits of American ethanol as well as raise funds to support flex-fuel availability. The funds raised by the FFA members will be matched by race-sponsor Syngenta.
"Renewable fuels are an essential part of the American energy equation, benefiting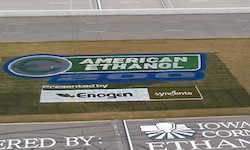 consumers, farmers and American energy independence," said David Witherspoon, head of Renewable Fuels at Syngenta. "Ethanol, whether from corn or other biomass sources, is an energy source for today and tomorrow driving economic growth and innovation.
According to Growth Energy, there are more than 16 million flex fuel vehicles on America's highways today. There are also more than 2,800 E85 fueling stations across the country, with 450 having flex fuel pumps offering mid-level ethanol blends, and more than 80 locations in 14 states that offer E15. Investments in flex fuel pump infrastructure are needed to support continued growth and help to expand the market for ethanol.
Witherspoon added, "For more than 45 years, Syngenta has demonstrated its commitment to the future of agriculture through its partnership with the National FFA Organization. We are proud to be partnering with local FFA chapters in Iowa to tell the ethanol story – and to raise money to make flex fuels more widely available by investing in flex fuel pump infrastructure."
energy.agwired.com will be bringing readers live coverage from American Ethanol 200 presented by Enogen. This is the second year Syngenta has sponsored the race.