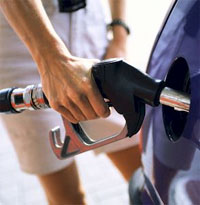 The biggest names in the oil industry get failing grades when it comes to offering alternative transportation fuels like ethanol, according to a new report card released today by the Renewable Fuels Association (RFA).
A new "Consumer Choice Report Card" grades the nation's largest retail gasoline chains based on whether they are providing consumers with alternatives to regular gasoline that cost less, reduce pollution and are higher octane for better engine performance.

According to RFA, the "Big Five" oil companies all scored at the bottom of the list — with fewer than one percent of stations offering American made, renewable alternatives like E85 or E15 — while a number of major independent retail chains received "A+" grades, with more than 25 percent of their stations offering E85 or E15. Those five companies are Exxon, BP, ConocoPhillips, Chevron and Shell. At the head of the class are independent chains such as Break Time, Meijer, Thorntons, Kum & Go, and Kwik Trip – all of which earned a grade of A+ for their support of renewable fuels. Among oil company affiliated brands, only Speedway/SuperAmerica and Cenex received high marks ("A-" and "B," respectively.)
The Consumer Choice Report Card is part of a new report from the RFA titled "Protecting the Monopoly: How Big Oil Covertly Blocks the Sale of Renewable Fuels" which exposes how the five largest oil companies, along with a number of leading refiners, are "engaging in strong arm tactics and covert practices to prevent and discourage the sale of renewable fuels, especially at stations carrying their brand name." The report finds that oil company distribution contracts "routinely include provisions that make it difficult, needlessly expensive, or simply impossible for a retailer to offer consumers choices like E15 or E85."
RFA president and CEO Bob Dinneen and RFA Senior Vice President Geoff Cooper held a media call to discuss the report and scorecard. "Cynically, oil companies frequently cite a shortage of fueling infrastructure as a reason why the EPA should lower the requirements of the Renewable Fuel Standard. Yet, as demonstrated in this analysis, the oil industry itself has deliberately created this shortage by making it as difficult and burdensome as possible for retail gas stations to offer greater volumes of renewable fuels," said Dinneen. "We have to enforce the Renewable Fuel Standard."
Cooper explains some of the tactics used by the big oil companies to prevent or discourage sales of renewable fuels. "Most of these contracts require supplier exclusivity meaning the retailer can only sell fuels made by supplier," said Cooper. "So if the supplier doesn't make E15 or E85 available at the terminal, the distributor can't distribute it to the retailer." Cooper says many agreements actually actively discourage retailers from promoting the availability of E85 and some have been fined for doing so.
Listen to or download the call here: RFA report on how oil companies block renewable fuels