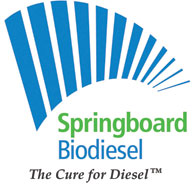 Small biodiesel processor maker Springboard Biodiesel wants more restaurants to get into the act of brewing up their own biodiesel from their used cooking oil and grease. The company has declared July "Green Restaurant Month" and is offering $1,000 cash back to any restaurant in the U.S. that recycles the waste into biodiesel using one of their BioPro™ appliances.
Springboard Biodiesel's CEO Mark Roberts explains, "Making biodiesel out of used cooking oil is not only profitable, it is possibly the single 'greenest' step a restaurant can take to improve air quality and reduce CO2 output."
"We make an automated appliance that enables any business that cooks for large groups of people to convert their used cooking oil into premium grade fuel for 95 cents per gallon. Currently, the National average price of diesel hovers around $4.00 per gallon and will go higher. The fuel made in a BioPro™ runs in any diesel engine and costs one-quarter of the price."
Over the last 6 years, Springboard Biodiesel has built a strong reputation within the green dining movement and is endorsed by the Green Restaurant Association, a national non-profit organization that assists member restaurants to become more environmentally responsible. The company also earned a prestigious "Kitchen Innovations" award from the National Restaurant Association in May of 2012 for the release of it's BioPro™ EX.
Springboard Biodiesel has put nearly 1,000 of its biodiesel brewers in restaurants and breweries all across the U.S. and about two dozen other countries. Not only do the restaurant owners and brewers save the environment, but they also save the cost of paying someone else to pick up their old cooking oil, as well as having a great fuel source of their own to run in vehicles, such as delivery trucks.