The Environmental Protection Agency issued final rules Wednesday to qualify additional fuel pathways for the production of cellulosic biofuel, including crop residue such as corn fiber.
EPA has now determined that crop residue does meet the lifecycle greenhouse gas (GHG) reduction requirements for cellulosic biofuel under the Renewable Fuel Standard (RFS) provided that "producers include in their registration specific information about the types of residues which will be used, and record and report to EPA the quantities and specific types of residues used."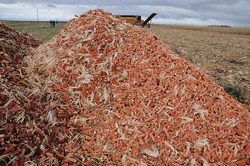 The final rule comes just as the first gallons of cellulosic ethanol are being produced this week from corn fiber in Galva, Iowa. "As demonstrated by Quad County Corn Processors—which produced its first commercial gallon of cellulosic ethanol from corn fiber just yesterday—this feedstock holds tremendous potential to contribute meaningful volumes toward compliance with the RFS cellulosic biofuels standard," said Renewable Fuels Association president Bob Dinneen.
Dinneen says EPA should be commended for using a straightforward approach to accounting for the cellulosic content of biofuel feedstocks. "The 'cellulosic content threshold' method finalized in today's rule is a common sense approach that minimizes administrative and accounting burdens for commercial producers, but upholds the spirit and intent of the RFS," Dinneen said.
The EPA also finalized some minor amendments related to survey requirements associated with the ultra-low sulfur diesel (ULSD) program and misfueling mitigation regulations for 15 volume percent
ethanol blends (E15) in announcements made on Wednesday.