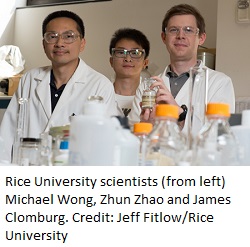 Researchers have discovered a catalyst of precious metals that is uncovering some real treasure in a biodiesel by-product. Rice University says engineers at the school have found palladium-gold nanoparticles, used as catalysts for cleaning polluted water, are also surprisingly good at turning glycerol into valuable chemicals.
Through dozens of studies, [Michael] Wong's team focused on using the tiny metallic specks to break down carcinogenic and toxic compounds. But his latest study, which is available online and due for publication in an upcoming issue of the Royal Society of Chemistry's journal Chemical Science, examined whether palladium-gold nanocatalysts could convert glycerol, a waste byproduct of biodiesel production, into high-value chemicals.
In scientific parlance, the data from the study produced a "volcano plot," a graph with a sharp spike that depicts a "Goldilocks effect," a "just right" balance of palladium and gold that is faster — about 10 times faster — at converting glycerol than catalysts of either metal alone.
In previous studies, the nanocatalysts were used in reduction reactions, chemical processes marked by the addition of hydrogen. In the latest tests on glycerol conversion, the nanocatalysts spurred an oxidation reaction, which involves adding oxygen.
"Oxidation and reduction aren't just dissimilar; they're often thought of as being in opposite directions," Wong said.
You can read the full study here.