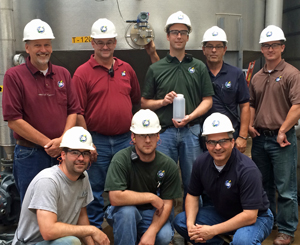 The very first commercial-scale cellulosic ethanol gallons produced in Iowa flowed from the Quad County Corn Processors (QCCP) distillation unit Tuesday, bringing smiles to the faces of the plant team members who posed with a bottle of the historic fuel.
The event marks the official commissioning of the farmer-owned ethanol plant's Adding Cellulosic Ethanol (ACE) project, which broke ground in Galva, Iowa not quite a year ago. The new "bolt-on" process adds the capability to convert the kernel's corn fiber into cellulosic ethanol, in addition to traditional corn starch ethanol.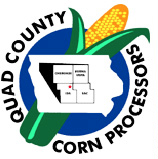 "Our Adding Cellulosic Ethanol (ACE) project will not only increase our plant's production capacity by 6 percent, but it will also continue to boost energy security and provide consumers with more low-cost, cleaner-burning ethanol without adding any additional corn to the production process," said QCCP CEO Delayne Johnson, who also noted the new technology will improve the plant's distillers grains (DDGs) co-product. "As a result of the new process, the DDGs will be much more similar to a corn gluten meal. It will increase the protein content of the livestock feed by about 40 percent, and we also expect to see a boost in corn oil extraction by about 300 percent," he said.
Listen to Johnson explain the process at the 2014 National Ethanol Conference: Remarks by Delayne Johnson, Quad Council Corn Processors
The Iowa Renewable Fuels Association (IRFA) offered congratulations to the QCCP team for becoming the first commercial-scale cellulosic ethanol producer in Iowa. "While the EPA continues to debate the Renewable Fuel Standard (RFS) for 2014 and beyond, renewable fuels producers like Quad County Corn Processors remain committed to pioneering new technologies that increase plant productivity and accomplish the goals set forth by the RFS," said IRFA Executive Director Monte Shaw, adding that the state has other cellulosic ethanol projects nearing completion.
Renewable Fuels Association (RFA) President and CEO Bob Dinneen says the first gallon of cellulosic ethanol represents just the beginning of a long, promising future. "It is worth noting that Quad County is the perfect demonstration of first and second generation ethanol being produced side-by-side to bring more choice to America in the form of low-cost, high-octane, renewable fuel," said Dinneen.
Syngenta recently partnered with QCCP to license the ACE technology, which is used in combination with the Enogen corn trait.