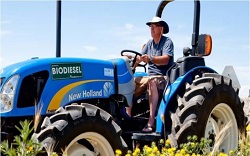 A new fund has been set up in memory of biodiesel booster Dallas Hanks, who recently died from cancer. The National Biodiesel Foundation set up a new foundation in Dallas' memory. For those who might not have known this great champion of the green fuel, this Utah State University professor and founder of USU's Center for Agronomic and Woody Biofuels was described as a visionary who had a knack for bringing stakeholders together to pursue a bigger picture. The Next Generation of Scientists Dallas Hanks Memorial Fund will honor his legacy and pass the research reins to a new generation of scientists eager to chase his dream.
Dallas was a huge supporter and contributor to [the National Biodiesel Board's] Next Generation Scientists program, where student scientists could be offered scholarships to attend industry events and other scientific mentoring activities. It was the consensus of the group [who gathered shortly after his death] that the National Biodiesel Foundation would create the Next Generation Scientists Dallas Hanks Memorial Fund. The proceeds of this fund will advance the original objectives of the program and assist in carrying out the visionary work that Dallas started. On behalf of the National Biodiesel Board and Foundation, the biodiesel industry, Dallas's family and many friends, we encourage you to support this important fund in order to honor Dallas and further his legacy. Thank you.
Click here to contribute to the Next Generation of Scientists Dallas Hanks Memorial Fund.