Advanced Ethanol Council (AEC) executive director Brooke Coleman commented last week on a new Congressional Budget Office (CBO) report on the impacts of the Renewable Fuel Standard (RFS) so we got him on the phone for this edition of "The Ethanol Report."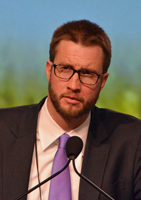 In this interview, Coleman talks about his take on the CBO report, as well as Phantom Fuels legislation in Congress, and the delay on EPA issuing a final rule for 2014 volume obligations under the RFS.
You may recall that EPA officials said earlier this year that they expected to have a final rule by the end of spring, or at least the end of June, but that has not happened yet and Coleman explains they now have until the end of September. "They were saying the end of June because they had to get it done by July 1st because they had extended the RFS compliance year through June," he said. "They then extended it again through September."
Ethanol Report with Brooke Coleman, Advanced Ethanol Council
Subscribe to "The Ethanol Report" with this link.