The world is about to see the first market-based, fixed-price funding program for solar and renewable technologies through a Feed-Out Program. The program, the brain-child of the Clinton Global Initiative America (CGI America) and Demeter Power Group, has a goal of helping modernize the nation's power grid with distributed energy.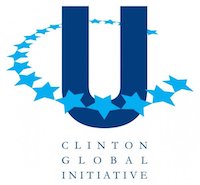 "The Feed-Out Program will bring together independent power producers and financiers to enable the lowest-cost, fixed-price offering for renewable energy," said Michael Wallander, Demeter Power Group founder and president. "But unlike other similar 'feed-in-tariff' programs, the energy will be used on the customer-side of the meter."
According to CGI, $1 trillion a year – a total of $36 trillion – is needed for investment in sustainable energy infrastructure to successfully reduce greenhouse gas emissions 50 percent by 2050. The Program will help tackle this challenge focusing primarily on funding for solar energy while also enabling cost-effective investment in energy storage, fuel cells and electrical vehicle car charging stations.
Yann Brandt, Demeter Co-Founder and EVP of Development noted, "What retail tenant or business owner would not want to save money on their energy bills while offering customers and employees the ability to shade their cars and power up with solar energy? We enable funding for solar-powered carports with electric vehicle charging stations at a net-negative cost to the customer."

Demeter is contributing its finance mechanism – PACE3P – to help overcome credit-related challenges that have prevented scalable finance programs in the past. Demeter explained that PACE3P ties services fees to the buildings where the energy is used through a voluntary assessment on property tax bills.
Initially the Program will make financing available to commercial properties located in Northern California communities participating in the California FIRST property assessed clean energy (PACE) Program offered through the California Statewide Community Development Authority. Interested participants must register with Demeter to participate in the platform, which is expected to launch in the first quarter of 2015.