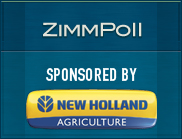 Our latest ZimmPoll asked the question, "How important are biobased products for agriculture?"
An overwhelming majority of those polled believe biobased products serve a purpose in the agriculture community. At the USB Biobased Stakeholders Dialogue in Washington D.C., USDA officials shared what they are doing to expand biobased opportunities. Listen to those interviews here.
Our poll results:
Very – need new markets – 71%
Somewhat helpful – 7%
Waste of resources – 7%
What are bio-based products? – 7%
Other – 7%
Our new ZimmPoll is now live and asks the question, "Where are you in #hay14?"
The hay making process is a necessity for all raising livestock across the country. Many got an early start this year, yet others have had delay after delay because of Mother Nature. I was raised to never complain when it's raining and after droughts the last couple of years I have learned to take all we can get. However, getting hay up on time and between spring showers has been hard for many farmers and ranchers. Have you finished your first cuttings or are you still in the heat of it? Join the hay making conversation on New Holland's Facebook page and learn about their Roll-Belt app here.