With the continued turmoil in Iraq causing instability in worldwide oil markets, Missouri Corn Growers Association (MCGA) is calling for increased ethanol access in the marketplace. Ethanol is trading more than a dollar lower than conventional gasoline according to the Chicago Mercantile Exchange.
"The cost savings from blending competitively priced ethanol are being kept from consumers," said MCGA CEO Gary Marshall. "To pay upwards of $3.50 or $4 per gallon when the top five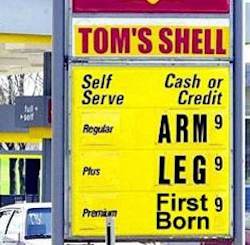 oil companies profited a combined 93 billion dollars is unacceptable. Drivers are sick and tired of shelling out an arm and a leg for gas – and they have every right to be."
Missouri drivers are currently using 10 percent ethanol (E10) in most gasoline sold across the state. Recently E15 (15 percent ethanol, 85 percent gasoline) was approved for use in the state in vehicles 2001 and newer. However, noted MCGA, the fuel blendstock provided by oil refineries during summer months limits blending higher than 10 percent ethanol, keeping customers from the price benefit of higher ethanol blends.
"The refusal by oil companies and refineries to provide a quality, cost-effective fuel when consumers are facing increasing costs at the pump is an outrage," said Marshall. "Drivers could see immediate savings from E15, yet fuel marketers' hands are tied until the summer regulation is lifted and winter blendstock is reintroduced this fall."
While prices at the pump have reached their highest levels since 2008, they would be even higher without the inclusion of ethanol to the country's fuel supply said MCGA. Last year alone, U.S. ethanol production displaced an amount of gasoline refined from 462 million barrels of imported crude oil, which is equivalent to that imported annually from Venezuela and Iraq combined.
"The latest energy issues in Iraq are a stark reminder why ethanol is important. As a country, we need to be looking at a long-term energy plan and not be held hostage any time militants take over a refinery in a foreign land," concluded Marshall.