Researchers in Panama are using the sun to save sea turtles. A new state-of-the-art clean solar energy system, installed and designed by FTL Global Solutions, is helping Sea Turtle Conservancy (STC) protect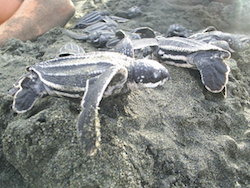 endangered turtles at its new research station on Soropta Beach, Panama. The rugged solar system provides electricity for lighting, security, water and cooking needs as STC biologists work throughout the night protecting endangered leatherback turtles and their hatchlings at one of the most important nesting beaches for this species in the Atlantic.
Soropta Beach, a remote black-sand beach on Panama's Caribbean coast, is home to a large nesting colony of leatherback sea turtles. Unfortunately, for years Soropta's leatherbacks and their nests have been illegally harvested by poachers who kill the turtles for their meat and raid nests to steal the eggs. STC's conservation program is helping prevent poaching by protecting nests, monitoring nesting activity, and building support for turtle conservation with the local community. The work takes place out of a rustic station, where the lack of electricity made the work extremely challenging – until now.
"The new solar energy system installed by FTL New FTL Solar Energy Panels Global Solutions is making our conservation efforts more effective and safe," said STC executive director David Godfrey.
STC's conservation efforts began in 2013 when it acquired an old farm house and began upgrading it to
accommodate a year-round turtle protection program. Part of the upgrades included LED lighting designed not to disorient the turtles. STC then hired and trained local community members to assist with the research and conservation work. However, without a year-round conservation presence at Soropta, poachers would move back in and threaten the survival of the turtles.
"Acquiring solar energy at a remote place like STC Staff at the Soropta Station Soropta Beach could not have been done without the expert advice and assistance of FTL," added Godfrey. "Their team guided us through the process; helped deliver the system to our remote station and even sent an expert to install the system and train our staff in its use and maintenance."
The FTL solar energy system now provides critical power needs to the station's various buildings where staff members live, work and eat. Running water is now supplied to a restroom and shower facility, and the station compound and dock now have security lighting in place.