Secretary of the Interior Sally Jewell and Bureau of Ocean Energy Management (BOEM) Acting Director Walter Cruickshank joined Massachusetts Governor Deval Patrick to announce more than 742,000 acres offshore Massachusetts will be available for commercial wind energy leasing. The proposed area is the largest in federal waters and will nearly double the federal offshore acreage available for commercial-scale wind energy projects.
"Massachusetts is leading the way toward building a clean and sustainable energy future that creates jobs, cuts carbon pollution and develops domestic clean energy resources," said Secretary Jewell. "Thanks to Governor Patrick's vision and leadership, the competitive lease sale in Massachusetts will reflect the extensive and productive input from a number of important stakeholders. This includes interests such as commercial fishing, shipping, cultural, historical, environmental, and local communities to minimize conflicts and bring clarity and certainty to potential wind energy developers."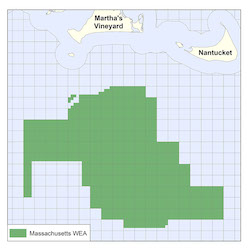 The Massachusetts Wind Energy Area is located approximately 12 miles offshore Massachusetts – from its northern boundary, the area extends 33 nautical miles southward and has an east/west extent of approximately 47 nautical miles. BOEM proposes to auction the Wind Energy Area as four leases.
"Today's announcement is a momentous occasion and the culmination of years of cooperation and hard work between the Commonwealth and federal officials," said Governor Patrick. "Through our investments and proactive planning, Massachusetts is poised to lead the charge in offshore wind energy development, with the economic and environmental benefits that come with it."
The Interior's is working to develop a sustainable offshore wind program through its 'Smart from the Start' wind energy initiative for the Atlantic Coast. To date, BOEM has awarded five commercial wind energy leases off the Atlantic coast: two non-competitive leases (Cape Wind in Nantucket Sound off Massachusetts and an area off Delaware) and three competitive leases (two offshore Massachusetts-Rhode Island and another offshore Virginia). The competitive lease sales have generated about $5.4 million in high bids for about 277,550 acres in federal waters. BOEM is expected to hold additional competitive auctions for Wind Energy Areas offshore Maryland and New Jersey later this year.
"The Commonwealth of Massachusetts has been working hand in hand with BOEM to foster responsible commercial wind development in federal waters off Massachusetts," said BOEM Acting Director Cruickshank. "Members of the Massachusetts Renewable Energy Task Force have been great partners in our planning process for the Wind Energy Area and the Proposed Sale Notice."
In response to the announcement, Conservation Law Foundation, who is working to advance responsibly sited offshore wind energy, said, "This is a meaningful leap forward for New England and the nation to seize the unparalleled renewable energy opportunity of offshore wind," said Sue Reid, Vice President of Conservation Law Foundation and Director, CLF Massachusetts. "Because of the sheer scale of offshore wind energy's potential, it has unmatched ability to displace the dirtiest and costliest energy generation on the grid. It is an essential building block of our clean energy future—one that can deliver wide-ranging environmental and public health benefits while boosting our regional economy."