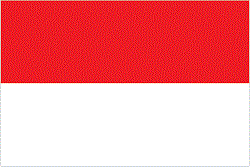 Indonesia looks to miss some pretty ambitious goals this year for its biodiesel program. Reuters reports that problems with logistics and infrastructure are what government officials cite as the reason for the miss.
The government has set a biodiesel consumption target in 2014 of 4 million kilolitres, of which 1.56 million kilolitres is for subsidised diesel for vehicles, with the rest to used by power plants and non-subsidised sectors such as mining and plantations.
But by end-May, only 447,000 kilolitres had been used in the subsidised diesel sector, Dadan Kusdiana, director of renewable energy and energy conservation at the mining ministry, told Reuters by text. He was unable to give data for other sectors.
Kusdiana said the figure for subsidised diesel was forecast to rise to 1.34 million kilolitres by the end of the year.
Analysts, however, have been sceptical the government could meet its targets due to issues in making biodiesel available throughout the island archipelago, particularly in more remote eastern provinces, and providing adequate supervision to ensure the new standards were being adopted.
The shortfall from the goals also comes as the country tried to spark more internal use, boosting the mandate for transportation fuels from 3 percent to 10 percent and doubling the power generation industry's mandate to 20 percent. Another reason for the shortfall not mentioned in the article might be the trouble Indonesia is having exporting its biodiesel to Europe right now.