The U.S. Department of Energy (DOE) Secretary Ernest Moniz has announced $100 million in new funding for 32 new Energy Frontier Research Centers (EFRCs). The EFRCs are designed to accerlerate the scientific breakthroughs needed to build a new 21st century energy economy in the U.S. One of the new research centers will live at University of California- Riverside (UC Riverside). "Spins and Heat in Nanoscale Electronic Systems" (SHINES) will receive $12 million over four years from DOE. The lead researcher is UC Riverside Professor of Physics Jing Shi, who will work with researchers from seven universities. SHINES is one of 10 new projects announced, along with 22 other projects receiving new funding based on achievements to date.
"Today we are mobilizing some of our most talented scientists to join forces and pursue the discoveries and breakthroughs that will lay the foundation for our nation's energy future," Secretary Moniz said. "The funding we're announcing today will help fuel innovation." He said the intent of the Energy Frontier Research Centers is to make fundamental advances in solar energy, electrical energy storage, carbon capture and sequestration, materials and chemistry by design, biosciences, and extreme environments.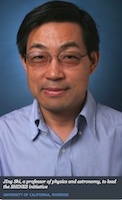 "I am happy to hear the news," said Shi, the UCR physics professor who has put together an interdisciplinary team of researchers from UC Riverside, UCLA, Johns Hopkins, Arizona State University, University of Texas, Austin and Colorado State University, Fort Collins. "I'm looking forward to seeing the scientific advances that they come up with," said Michael Pazzani, UC Riverside's Vice Chancellor for Research and Economic Development. "This is exactly the kind of scientific leadership that UC Riverside has been encouraging and supporting This project will lay the groundwork for energy technology for the nation."
SHINES will investigate several aspects of basic research: new ultrathin films, nanostructured composites, high resolution imaging, the transport of electrical signals, heat and light. "All of it will be studied, modeled and simulated in order to help the nation's ability to advance in the way we use energy," said Shi, the lead researcher.