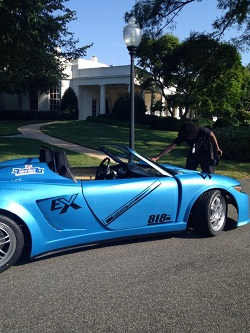 A biodiesel-fueled car that can go 150 miles per hour and get 100 miles per gallon was on display at the White House today. This story from GovTech.com says the Factory Five 818 electric blue race car built by the EVX Team at The Workshop School in West Philadelphia, Penn. was part of the first-ever White House Maker Faire, an innovation showcase for tinkerers, inventors and entrepreneurs.
"When I heard I was going to the White House I was like 'This can't be I true.' " said Joshua Pigford, an 11th-grader who has worked on the car all year and will be visiting D.C. for the first time. "I couldn't really believe it."
The students have been building the 818 for the entire school year. [Simon Hauger, creator and leader of the EVX Team] said it wasn't hard to get a group of teenagers excited about building a race car.
The goal of the project: Take the kit donated by Massachusetts company Factory Five Racing for the 818 chassis and adjust and adapt the car to make it not only fast, but also environmentally friendly.
As Hauger described it, they were to design "something that was fuel efficient and cool."
Not only is the car efficient and cool, since it runs on biodiesel made from recycled cooking oil leftover from frying chicken and making doughnuts, it's also doing another chore in helping clean up the environment.