Mosiac is going national. The first solar company to ever use crowdsourcing investments to finance solar projects has just launched another first of its kind technology platform: Mosaic Places. The technology will enable the nation to go solar one location at a time.
So how does it work? The public can nominate community centers, schools, libraries and places of worship as well as local businesses to go solar. The site already contains nearly 300,000 places across the U.S.
I went to Mosaic Places and checked to see if my friend's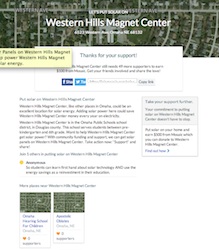 school was listed. It wasn't yet so I nominated Western Hills Magnet Center, an Omaha, Nebraska elementary school for solar energy. The building was built in 1952 and has had no upgrades since. In fact, some rooms have no air conditioning (no, a 100 degree room is not a good learning environment for children). With solar, the school can save money on energy and invest the funds back into the kids. And, it gives these students the opportunity to learn about solar first-hand. This is a perfect example of engaging kids in science, technology, engineering in math (STEM) that our schools need so much more of.
Now that I have my school in the system, it asks for as little as a petition – people just click support (which I already have) to participate. However, serious money can be raised to put solar on a place as Mosaic matches supporters with dollars.
Mosaic Places was born out of a successful New Years pledge launched by Mosaic and actor Mark Ruffalo asking people to #PutSolarOnIt in 2014. While a solar installation was installed, on average, every four minutes in the U.S. in 2013, the nation has put solar on less than 1 percent of the homes and commercial buildings that would financially benefit from solar on their roofs. With thousands of incoming pledges for the #PutSolarOnIt campaign, Mosaic built a platform that would help people achieve their commitments. The product launch comes days before the first national #PutSolarOnIt Day of Action this June 21st, the Summer Solstice and longest day of the year.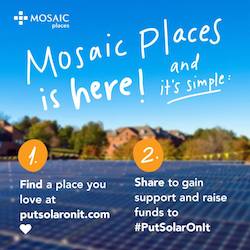 "We have been dreaming about this product for years," said Mosaic President, Billy Parish. "It's based on our belief that every building can go solar if the community is behind it. Mosaic has built a product that enables everyone to participate in transitioning the country to 100% clean energy."
The funds raised are designed to bridge the gap for community buildings whose solar installations may need a few thousand dollars to be financeable by conventional means. For every 50 people that click "support" on a Place's page, Mosaic will donate $100 to put solar on it. In addition, homeowners who go solar through a Mosaic Place's page will be eligible to receive a $500 gift, which they can donate to put solar on that place.
Any individual can use Mosaic Places by going to www.putsolaronit.com, finding or adding a Place and sharing their chosen Place with their friends to get supporters and raise funds to put solar on it. Schools, places of worship and other community groups can fundraise to put solar on their buildings by asking their community members to support their Place's page and put solar on their homes through their Place's page.
So I want to #PutSolarOnIt on Western Hills Magnet Center. Where do you want to put solar on it?