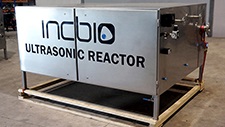 Portugal-based IncBio delivered its latest fully automated ultrasonic biodiesel reactor to South America. This company news release says it will produce 120,000 metric tons/year of the green fuel using the ultrasonic transesterification process, a technique touted by the company as much more efficient than traditional biodiesel makers.
José Marques, IncBio's CEO said: "By updating the existing technology, our client is bringing its plant back to profitability, something with which most outdated plants are currently struggling with. Ultrasonic reactors not only speed up the conversion, by causing a reaction in seconds vs the typical hours of agitation or recirculation, but because they also require lower amounts of methanol and catalyst, ultrasonic biodiesel reactors exponentially improve the financials of existing plants. By reducing reaction time, and methanol consumption, we greatly reduce energy consumption (mostly reducing the volume of methanol to be distilled).
We are seeing the interest in our technology growing by the day and this is not surprising, since existing plants are struggling to turn a profit, mostly because they are using 20th century technology, at a time when we're already well into the 21st century and the technology has moved on substantially. The reactors end up paying for themselves very quickly, with the typical payback time being measured in months, not years."
Earlier this year, IncBio delievered a biodiesel processor to Tunisia and inked a deal to deliver one to turn animal fats into biodiesel in Saudi Arabia.