HP Hood's plant located in Lafargeville, New York is converting from fuel oil to compressed natural gas (CNG) as a boiler fuel. According to the company, CNG is much less expensive than fuel oil, therefore the new technology will make the plant more competitive. After the conversion, the plant will emit 26 percent less CO2, much less SO2 and NOx, and almost no particulates.
HP Hood's Lafargeville plant is not located on a gas pipeline so needed another conversion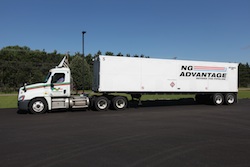 option. NG Advantage LLC provided the answer. NG Advantage trucks CNG using its "virtual pipeline" of 27 trailers to deliver the natural gas from existing pipelines to large institutions and industrial facilities in Vermont, New Hampshire, and Massachusetts and is now expanding into eastern New York State.
HP Hood LLC was founded more than 160 years ago and has grown to be a national company distributing dairy products throughout the United States. Today, HP Hood is now one of the country's largest branded dairy operators with 15 manufacturing plants throughout the United States. As a leader in its industry, Hood is committed to conducting business in a way that maintains a vigilant focus on sustainability.
NG Advantage will begin delivering natural gas to very large energy users that do not have access to a pipeline in upstate and eastern New York in Q4, 2014. The company said it is committed to bringing the economic and environmental benefits of natural gas to customers located beyond the reach of pipelines. Customers do not need to build storage tanks as the tractor/trailers automatically arrive 24/7 and gas is drawn directly from the trailers into the boilers at the plant.
Freeman Covert, Director of Operations at the HP Hood Lafargeville plant, expressed his support of the conversion to CNG. "As we strive to work smarter and better, we are pleased that the partnership with NG Advantage creates both environmental and business efficiencies."
According to NG Advantage, their customers save 20-40 percent off the cost of their process and comfort heating bills by replacing fuel oil as their primary source of heat with cleaner, less expensive, North American natural gas.
NG Advantage CEO Tom Evslin added, "We are pleased to have the opportunity to bring the benefits of natural gas to HP Hood, its customers, employees, and neighbors. We are looking forward to bringing natural gas beyond the pipeline to New York institutions just as we have already done in New England where we got our start."