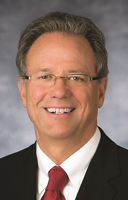 Biofuels veteran and former Deputy Undersecretary of Agriculture John Campbell has joined Ocean Park Advisors (OPA), a corporate finance advisory firm for biofuels and other agribusiness companies. Campbell will serve as managing director based in Omaha, Nebraska and will serve to broaden the company's relationships, develop new business and help execute transactions.
"I am thrilled to have the opportunity to work with the principals at Ocean Park," said Campbell. "This is a unique firm that brings senior-level attention to transactions in renewable energy, food processing and other agriculture sectors."
Campbell spent 21 years with Ag Processing Inc (AGP), a $5 billion cooperative, where he was an executive vice president responsible for leading the industrial products division. He launched it with biofuels and later expanded it to include green chemistry applications of soy oil products to plant protection, industrial cleaning, personal care and environmental remediation sectors. He is credited as being one of the driving forces behind the creation of the U.S. biodiesel industry. Under Campbell's leadership, AGP constructed the first commercial scale biodiesel plant in North America followed by numerous other expansions, projects and acquisitions. He was also engaged in the ethanol industry starting in the 1990s, and served as president of the Nebraska Association of Ethanol Producers.
Campbell served as Deputy Undersecretary of Agriculture in 1988, engaged in legislative and regulatory activities related to commodity programs, conservation efforts and trade.