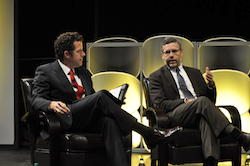 This year's International Fuel Ethanol Workshop & Expo (FEW), which took place in Indianapolis, had the largest number of attendees ever. Tom Buis with Growth Energy and National Corn Growers Association CEO, Rick Tolman were both keynote speakers at the opening general session of 30th annual event. A trade show and additional workshops were held for attendees.
I had a chance to catch up with Tim Portz with BBI International and discuss the workshop and what he hopes people take back to the industry with them.
You can listen to my interview with Tim here Interview with Tim Portz, BBI International
Check out the 2014 Fuel Ethanol Workshop photo album.