Experts from Iowa State University and the United States Department of Agriculture (UDSA) have dtermined that after five years of soil nutrient data gathered at POET-DSM's Project Liberty site are consistent with more than 500 site-years of additional soil research. The research team has concluded that the results show that biomass harvesting, which is now being done in the Emmetsburg, Iowa area, is consistent with proper farm management.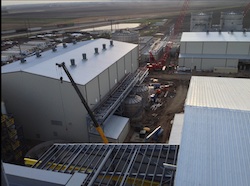 "Successful deployment of cellulosic bioenergy production operations such as the POET-DSM 'Project Liberty' program near Emmetsburg, Iowa can strengthen rural economies, help ensure energy security, and reduce greenhouse gas emissions without contributing to soil degradation – another global challenge," said Dr. Douglas Karlen with USDA-ARS.
POET-DSM is currently finishing construction on its 25 million gallon-per-year cellulosic ethanol plant located in Emmetsburg, Iowa. That plant will use crop residue – corn cobs, leaves, husk and some stalk – to produce renewable fuel. Since 2008, POET-DSM has commissioned soil research from Karlen and Dr. Stuart Birrell (Iowa State University BioSystems and Agricultural Engineering Department) to determine changes in soil quality under different biomass harvest scenarios. That data has now been aggregated with 500+ years of additional soil data from four separate sites.
Karlen said fields that would be good candidates for biomass harvesting have qualities including
Slopes of less than 3%
Consistent grain yield histories of 175 bu/acre
Good nutrient management plans with soil test records
At a 1 ton per acre harvest rate, which POET-DSM advocates, Nitrogen and Phosphorus applications should not need to change, but Potassium should be monitored. Karlen also said that by monitoring natural variability within a particular field, "even more stover may be harvested from some areas in a sustainable manner." These recommendations are in line with previous recommendations from Karlen and Birrell for the Emmetsburg area.
"We've been working with farmers for almost eight years now to ensure that biomass harvesting is done right," said POET Biomass Director Adam Wirt. "We've developed an EZ Bale harvest system that maximizes our cob content and minimizes stalk removal. It's a quick, clean and effective method for farmers to get more revenue from their fields while managing what is often excess crop residue."