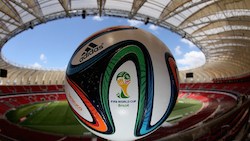 The FIFA World Cup 2014 is underway in Brazil and this year's event features several renewable energy and sustainable measures never before seen during the event.
Sugar Cane Industry Association (UNICA) is supplying the governing body of the football fleet (known as soccer to those living in the U.S.) with ethanol. Flex-fuel cars from Hyundai, Model HB20 Edition FIFA World Cup, are running the streets and roads of Brazil powered with fuel from cane sugar.
The adoption of ethanol is one of the measures to avoid, reduce and offset emissions of carbon dioxide (CO2) released dioxide in the atmosphere, the 'Football for the Planet,' according to FIFA's official environmental program that aims to reduce the negative impact of their activities on the environment. In Brazil, FIFA and the Local Organising Committee (LOC) of the 2014 World Cup are putting in place projects that address key areas such as waste, water, energy, transport, logistics and climate change.
For the consultant Emissions and Technology of Sugar Cane Industry Association (UNICA), Alfred Szwarc, the initiative of the FIFA program is extremely appropriate as sugarcane ethanol compared with gasoline. He cites sugar-based ethanol reduces 90 percent of greenhouse gases that cause climate change when compared to straight gasoline. Reducing global warming is one of focuses of the "Football for the Planet" FIFA campaign.
In addition to biofuels, Yingli Green Energy has provided dozens of solar panels to various operations involved with FIFA and this year the company plans to offset all carbon emissions arising from its promotional activities in Brazil to make the FIFA World Cup Brazil the greenest in history. The company's efforts included all solar powered stadiums, commercial displays, customer hospitality, media activities, and employee travel and accommodation. To achieve carbon neutrality, Yingli has:
Supplied over 5,000 Yingli solar panels and nearly 30 off-grid solar energy systems to help power matches at multiple FIFA World Cup stadiums;
Partnered with ClimatePartner, an independent, certified environmental agency, to accurately calculate and verify emissions data for the duration of Yingli's sponsorship activation in Brazil;
Committed to investing in carbon emission reduction certificates that are generated by a local Brazilian project, and that are certified by the Bureau Veritas Certification Holding SAS.
"By becoming history's first carbon neutral sponsor of the FIFA World Cup, Yingli is honoring its commitment to our environment and to our planet," noted Mr. Liansheng Miao, Chairman and Chief Executive Officer of Yingli Green Energy. "As a company whose products and mission are deeply intertwined with sustainability issues, we are dedicated to reducing the ecological impact of all aspects of our business operations, including our highly visible and pervasive marketing activities."