The 30th Annual Fuel Ethanol Workshop (FEW) kicked off this week with an annual ethanol industry update from Growth Energy's CEO Tom Buis. Leah Guffey was able to catch up with Buis after his presentation and asked him what some of the biggest challenges facing the ethanol industry are right now.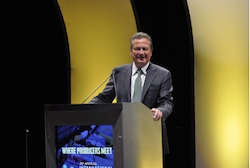 "The most immediate challenge confronting us is what the EPA and the administration is going to with the 2014 renewable fuel volume obligations (RVOs)," answered Buis. This is in essence what the industry calls the 2014 Renewable Fuel Standard.
The rule, noted Buis, should have been finalized by January 1, 2014. He said the Environmental Protection Agency (EPA) is late and the proposed rule is a very controversial rule. "The proposed rule really missed the mark in our opinion," said Buis. "We don't think they based it upon the facts. We've spent the last six months trying to convince them they got it wrong and they've got to move it forward not backwards."
When asked when he thought the final rule would come out Buis answered, "Pick your rumor." He said there were over 300,000 comments about the proposed rule and he believes EPA is working as fast as they can.
While there are many steps that have to be taken before the rule can be finalized, Buis said, "Hopefully they get it right. I'll take it late if it's right as opposed to early and wrong."
Learn more about some of the challenges facing the ethanol industry in Leah's interview with Tom Buis:Interview with Growth Energy CEO Tom Buis
Check out the 2014 Fuel Ethanol Workshop photo album.