Americans United For Change want Iowans to know where their candidates for U.S. Senate stand: with Iowa farmers or Big Oil. The Renewable Fuel Standard (RFS), legislation that mandates the U.S. transportation sector blend 36 billion gallons of alternative fuels into our fuel by 2022. With more than 30,000 comments sent to the Environmental Protection Agency (EPA) on their proposed 2014 required volume obligations, aka, how many gallons of biofuels will be blended into fuel in 2014, there has still been no word on the final 2014 rule out of D.C.
In Iowa, primary elections took place last week and newly nominated Republican Joni Ernst, who currently serves as an Iowa Legislator, has not taken a firm stand on the RFS. According to Americans United for Change, she claims to be pro-RFS but often in the same breath admits she is "philosophically opposed" to all subsidies and that she "want[s] people to choose products that work for them and not have them mandated by the United States government."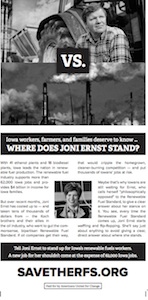 Today, Americans Unite for Change, in an effort to get a straight answer, has taken out a full page ad in the Des Moines Register and Cedar Rapids Gazette that asks the questions whether the tens of thousands of dollars Ernst's campaign has already taken from the billionaire oilmen Koch Brothers is the reason why she is so hesitant to go to the mat for renewable fuels. The biofuels industry accounts for $5.5 billion of Iowa Gross Domestic Product (GDP, generates $4 billion of income for Iowa households, and supports 60,000 jobs throughout the state.
Jeremy Funk, Comm. Dir., Americans United for Change, said of the ad, "As the candidates from opposing parties interview to be the next Senator from Iowa, there are many issues like raising the minimum wage that will present a clear contrast for voters. The Renewable Fuel Standard should not be one of those issues in the state that leads the nation in renewable fuel production with 41 ethanol plants and 18 biodiesel plants."
"And yet," continued Funk, "Tea Party-favorite Joni Ernst is going out of her way to complicate the simple and flip-flopping all around the issue. Talking out both sides of the mouth is something we've come to expect from politicians, just not politicians from Iowa on the issue of supporting renewable fuels. A strong and clear voice of support for ethanol and biodiesel is needed now more than ever in Washington with Big Oil spending millions of dollars to try to put out of business their cheaper, cleaner competition so they can gouge consumers at the pump with impunity."
But it seems the more money Joni Ernst's campaign rakes in from big oil interests like the billionaire Koch Brothers, the weaker and murkier her position becomes." Funk concluded, "You can tell a lot about how a politician would actually govern by the friends they keep."