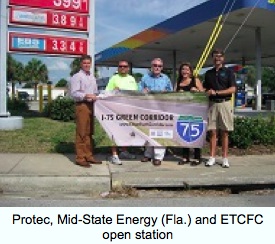 The I-75 Green Corridor Project took a huge step forward this week with the addition of 17 new biofuel stations between Chattanooga, Tennessee all the way to southwestern Florida. This week marks the 5th year of the project that began in Knoxville, TN through a grant funded by the Department of Energy's Clean Cities Program. The goal of the project is for drivers to traverse the entirety of I-75 running on biofuels including ethanol as E85 or biodiesel in a B20 blend. In all Interstate 75 is 1,786 miles from Canada to the Caribbean. The ultimate goal is to have an ethanol/biodiesel station no more than 200 miles apart.
Since the project's inception, over 3.3 million gallons of biofuels have been sold from stations associated with the project, and 2.6 million gallons of petroleum have been displaced. The project has now displaced over 61,000 barrels of oil, or alternatively, the U.S. has now produced over 61,000 additional barrels of renewable, American fuel.
Specifically in Tennessee, five E85 stations are now open in Cleveland and Chattanooga and nearby neighborhoods of Wildwood and Ft. Oglethorpe and one station is set to open in Knoxville this summer. Jonathan Overly, executive director of the lead organization for the project, the East Tennessee Clean Fuels Coalition, said, "We could not have had the development of this many stations or otherwise success we have had in the project without Protec as a partner. Steve (Walk, of Protec) was great to work with and helped us achieve the project goals."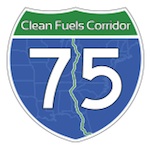 Thus far along the corridor, E85 has been installed at 26 fuel stations, and B20 has been installed at nine. These numbers are expected to increase in the coming months with another six stations coming online this summer. The project is now in its final year and has resulted in the 1,786-mile interstate becoming the planet's longest biofuels corridor.
Protec was instrumental is helping the project come to fruition. The company specializes in stations conversions and fuel distribution. "We are honored to be a major partner, fuel station installer and fuel provider for this important project," said Steve Walk, an executive director of Protec Fuel. "This project can prove biofuels are accessible, and hopefully turn new users onto renewable fuels."
The significance of this project lies not only in the extensive length of American interstate involved, but also the six-state, multi-partner coordination that has taken place. There is also significance in the fact that American drivers now have a greater number of fueling options, as well as alt-fuel vehicles. There are nearly 100 flex-fuel vehicle (FFV) models on the market today than can run on E85. Coupled with the fact that, by conservative estimates, there are over 10 million FFVs on the road, there is strong need for more stations offering E85.