Leading into the Fuel Ethanol Workshop that is taking place this week in Indianapolis, Indiana (June 9-12) Edeniq, Inc., has announced the successful performance of its PATHWAY Validation Facility. The company's PATHWAY Platform is a proprietary, integrated platform that produces cellulosic ethanol inside existing corn ethanol plants. Edeniq said their pilot facility showcases how their patented technologies, the Cellunator and PATHWAY Platform, work together to convert starch and break down corn kernel fiber, releasing cellulosic sugars into the fermentation process. The result is an ethanol yield increase ethanol of three to six percent. The pilot facility is located at the company's headquarters in Visalia, California.
"The pilot facility confirms a necessary high-precision consistency in the PATHWAY Platform that is a first for our industry," said Tom Griffin, chief technology officer, Edeniq, Inc. "Our customers are looking for a way to generate and validate cellulosic ethanol production, and with Edeniq's PATHWAY Platform coupled with this unique pilot facility, we have equipped them with the solution."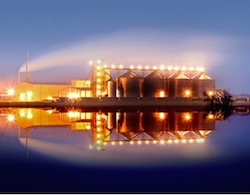 Funded jointly by Flint Hills Resources Renewables, LLC, and Edeniq, the pilot facility showcases the PATHWAY Platform and allows ethanol producers to quantify the impact of PATHWAY on yield enhancement and cellulosic ethanol production at their plants.
"The PATHWAY Validation Facility was developed to provide our customers and partners with data to verify the increase in ethanol yield the technology provides," added Brian Thome, president and CEO of Edeniq, Inc. "Edeniq is committed to increasing the bottom line for our customers and partners by allowing ethanol producers to improve their efficiency and migrate to cellulosic ethanol."
The PATHWAY Platform is currently in commercial testing and continues to demonstrate its ability to increase ethanol yield and boost customer profits.