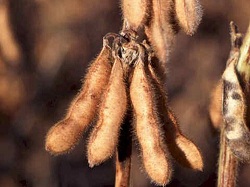 Increased demand for soybeans in the U.S., driven in part by the biodiesel industry, is prompting some Brazilian imports of the feedstock. And while importing agricultural products normally covered by domestic producers usually is seen as a negative, this article from the Herald-Review in Decatur, Ill. says it could actually work in American farmers' favor this time.
Irony? Travesty? Unthinkable for the United States to be importing Brazilian soybeans? Most people would agree to one of those. After all, traders at the Chicago Mercantile Exchange will likely devalue soybeans when the ships arrive in port and begin unloading. After all, it is a psychological thing.
But a different way of looking at it came last week from John Baize. Baize has been a long time consultant to the soybean industry about government treatment of soybeans and international issues affecting the soybean economy. He isn't upset at all about the impor of Brazilian soybeans.
Baize looks at it as the perfect scenario for soybean economics. Scenario, not storm. According to his calculations, farmers sold their 2013 crop soybeans early in the marketing year at very high prices. He says we are short of soybeans now, and will be bringing soybeans into the United States from Brazil at much cheaper prices than what farmers sold their soybeans for. In his words, "It's a good situation that I think we will see often in the future."
This follows the basic economic theory buying low and selling high. Farmers were able to sell their beans for high prices, and now those beans are being replaced at lower prices. Keep an eye on the Chicago Mercantile Exchange to see if it agrees.