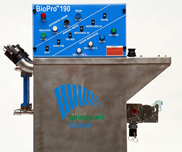 California-based Springboard Biodiesel celebrates its sixth anniversary of making biodiesel brewing equipment with a new model. This company news release says the new "True Blue 190™," a small-scale biodiesel processor that can turn used cooking oils into biodiesel.
If a business can collect its used cooking oil for free, the total cost to make this diesel-replacement fuel is 95 cents per gallon. 95 cents is the cost of all the other inputs, including electricity, required to convert the oil into fuel. Once the appliance has made the conversion, this cleaner-burning fuel can be pumped directly out of the BioPro™ and into a diesel engine. No engine modification is required.
To celebrate the six-year milestone, and to differentiate machines made in 2014 from any other year, the company announced that it will now be selling machines with an optional "True Blue 190™" powder coated exterior throughout the remainder of the year, and will be offering them with free shipping to anywhere in the US through June 30th.
Mark Roberts, the company's CEO, said in a statement, "For six years, we've been listening to our customers feedback and upgrading our equipment and now, in 2014, this machine represents what we believe is the best small-scale biodiesel processor on the market."
The company adds that these processors are good for schools, restaurants, and even military bases looking to make cheap biodiesel from what would normally be waste products.