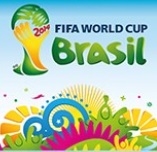 While the World Cup soccer tournament is about to get underway and bets are already being placed on favorites, such as Germany, Argentina, Spain, and of course, host nation Brazil, the big winner already might be biodiesel. This article from Farm Futures says Brazilian farmers are happy the buses in the host cities will run a 20 percent biodiesel blend, as they will serve as a chance to show higher blends will work.
As if the chance to show off its biodiesel prowess on an international stage weren't enough, Brazilian President Dilma Rousseff put the icing on the cake. She just issued a decree that will up the national mandatory biodiesel blend—with or without the World Cup Games—from the current 5% to 6%. Then, come November, the blend will go up to 7%. It's "an important step" for the soybean industry, said Brazil's oilseed crushers in a news release…
Farmers and crushers also argue that higher biodiesel blends would save government money—at exactly a time when some Brazilians are hitting the street in protest over World Cup spending, arguing it diverts from investment in social issues. With short refining capacity, it is said more than 20% of Brazil's petroleum diesel comes from abroad. And, to keep official inflation numbers lower, the head of the crushers' association there says that diesel is sold by the government's national petroleum company at a loss. Greater biodiesel blends would cut some of those money-losing imports.
The article also says that while there has been a 5 percent blend in the country, biodiesel producers are able to produce twice as much as that blend currently uses. A higher blend would allow them to produce closer to capacity. About 80 percent of Brazil's biodiesel comes from soybeans.