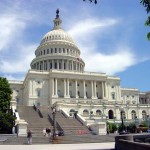 A bill to help rural areas get more power from the wind has been introduced. Representatives Earl Blumenauer (OR-03) and Tom Cole (OK-04) say their Rural Wind Energy Development Act will provide an investment tax credit to ranchers, farmers, and small businesses to offset the up-front costs of owning a distributed wind turbine.
Small wind turbines (generating up to 20 megawatts of clean energy) allow farmers, ranchers, and other consumers to cut their energy bills and, at times, sell power back into the grid. They also allow thousands of businesses—from "mom and pop" stores, to retailers, to ranches, and to breweries—to reduce their energy load, to help clean the environment, and to save money. The Department of Energy's national laboratories estimate that community wind generates a strong economic multiplier for local communities, helping rural areas rebound from challenging economic times.
"Community wind energy not only creates American-produced electricity, but American jobs as well," said Blumenauer. "Approximately 90% of distributed wind turbines sold in the U.S. are made here, according to domestic manufacturing content, creating non-exportable, family wage jobs."
"I am pleased to once again work with my friend and colleague in furthering the success of the same credit we worked to create in 2008," said Cole. "Not only does the credit play an important role in encouraging and developing an all-of-the-above energy approach for our nation, but it also ensures that America continues to be a leader in innovation. By modestly increasing this credit, we can continue to encourage economic development, especially in our rural communities."
The bill is touted as taking away federal restrictions that work well for large-scale wind projects, but cause issues for the smaller producers.