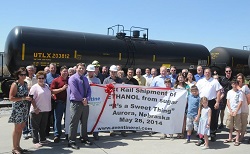 A Nebraska ethanol plant is back up and running after being idled for two years. But this article from the Lincoln Journal Star says the biggest surprise is the fact that Aventine Renewable Energy Inc. in Aurora is making the green fuel from sugar, not the usual corn feedstock.
The company is using sugar because it can. It's even simpler to make ethanol from sugar than it is from corn, but it's only temporary, according to Aventine. The federal government makes surplus sugar available to ethanol producers to use as feedstock.
Aventine's operations at the Aurora West plant have been complicated and delayed by the company's legal disputes with the Aurora Cooperative over their land deal, rail access and other agreements. The ethanol producer, based in Pekin, Ill., filed for bankruptcy five years ago, and that delayed the plant's construction, causing conflict with the co-op.
The co-op also had an agreement to supply the plant with feedstock. Both sides contend the other breached that agreement. The plant has a capacity to produce 113 million gallons per year.
Nebraska Ethanol Board officials believe this might be one of the first times something other than corn has been used to make ethanol in the state. The re-opening also brings consistent production back to this Aventine plant, and it opens the door to another nearby, smaller Aventine ethanol plant to re-opening after being idled for the past two years.