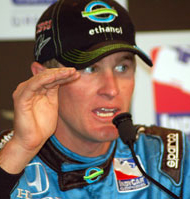 It was mid-season in 2007 when Ryan Hunter-Reay burst on the IndyCar Series scene wearing the green and blue ethanol logo for Rahal-Letterman Racing. He finished 6th in his first Indy 500 in 2008 and won Rookie of the Year. This year he came in first.
"I'm a proud American boy, that's for sure," said Hunter-Reay, who is the first American since 2006 to win the race. He now races for Andretti Autosport driving the DHL car.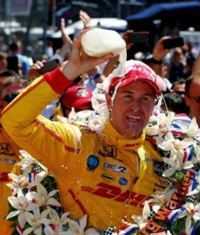 Ryan was not the first ethanol IndyCar driver. He replaced Jeff Simmons, after Simmons replaced the first driver Paul Dana, who was killed during practice in Homestead at the first Indy race to run on 10% ethanol. Ryan was the third and last driver of the car sponsored by the Ethanol Promotion and Information Council (EPIC), which dissolved in 2008 to become part of Growth Energy.
In his first interview with Domestic Fuel after being named the new driver, Ryan talked about how pleased he was to promote ethanol as the IndyCar Series moved to 100 percent ethanol. "It's a really neat story that they can make these 700 horsepower, 230 mile an hour cars run on 100 percent ethanol, and the fact that we can use less fuel doing it – with methanol we had to use more," he said. 2007 Ryan Hunter-Reay Interview
Starting in the 2009 season, Brazil become the new sponsor of the 100 percent ethanol IndyCar Series, but Ryan still raced a few more times under the Team Ethanol banner at the Iowa Corn Indy 250 and has always been a strong advocate for ethanol. Congratulations on winning the big one this year, Ryan!