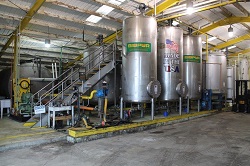 Seller of used biodiesel brewing equipment, Maas Companies, will hold an online auction of biodiesel equipment used in Connecticut. The sale includes a 1.5 MGY Biodiesel Equipment Package, along with a 250 Kilowatt CAT Cogen System, centrifuge, lab equipment, forklift, chiller, new and surplus parts. It will take place on Thursday, June 19th with the bidding ending at 5:00 pm EDT.
BioPur Inc. Was the First Commercial Bio-Diesel Production Facility in the State of Connecticut When it Started in 2006. The Plant Used a Batch Processing Configuration to produce 1.5MGY of ASTM D 6751, B99 and B100 Fuel Grade Biodiesel. The Plant Used Mainly Soy Bean Oil and Recycled Cooking Oil (Yellow Grease) for Feedstocks in a Dry Wash Process.
BioPur Light & Power Inc., Was the Next Step in Using Plant Produced Biodiesel to Produce Clean Electric Power for the Plant's Own Use, Selling the Remaining Power Back to the Grid to Power 150 Neighboring Homes. The State-of-the-Art BioWatz Project, Monitored Real Time, Generator Production, Power Consumption, Feedstock Performance and Environmental Efficiencies. BioPur was a Recipient of Several Federal US Department of Energy Grants through the Greater New Haven Clean Cities Coalition. During it's Operation the BioWatz Project Gathered Over 1000hrs. of Data for the DOE.
You can inspect the equipment in person by appointment on Wednesday, June 4, from 10 am to 2 pm and Wednesday, June 18 from 10 am to 2 pm.