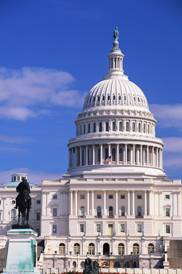 Funding for some rural renewable energy programs is taking a hit. Ethanol Producer Magazine reports the House Appropriations Committee cut the Biomass Crop Assistance Program (BCAP) down to just $15 million, down from last year's levels of $25 million, and Rural Energy for America Program (REAP) for fiscal year 2015 is proposed to be funded at just $30 million, down for 2014's $50 million in mandatory funding and $20 million in discretionary funding for FY 2015. Meanwhile, the Biorefinery, Renewable Chemical and Biobased Product Manufacturing Assistance program is cut to $22 million, a major drop from previous levels of $50 million in mandatory FY 2015 funding, with an additional $75 million in discretionary funding for FY 2015.
The Agriculture Energy Coalition (AgEC) has released a statement in response to the draft bill, vowing to fight the changes to the Farm Bill's popular energy programs. "The renewable energy and energy efficiency programs in the Farm Bill help rural America create new biobased manufacturing opportunities and stable, well-paying jobs," said Lloyd Ritter, codirect of the AgEC ."The Energy Title programs were reauthorized in the five-year Farm Bill adopted by Congress just months ago, in February 2014, and received mandatory funding to allow for program stability and business certainty. The modest investments made through that bill would pay major dividends for energy security, economic growth, and environmental gains across the United States."
"Just today, however, the House Appropriations Committee sought to roll back the Farm Bill, by targeting the successful energy title programs for changes in mandatory spending and blocking the USDA's ability to administer them," Ritter continued. "The Agriculture Energy Coalition, which comprises a broad group of renewable energy, energy efficiency and agricultural groups, will continue to fight to ensure that these programs are implemented properly."
You can read the full draft of the legislation here.