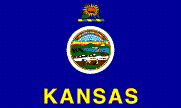 The federal government says there's a lot of untapped hydropower in Kansas, in fact enough to power the entire state. But this article from the Topeka Capital-Journal says local residents of the fairly flat state are skeptical of the findings from the U.S. Department of Energy.
A study from Oak Ridge National Laboratory showed Kansas has about 2.4 gigawatts of potential hydropower that isn't being used. A gigawatt is equal to 1 million kilowatts, a more familiar metric for residential electricity users…
David Barfield, chief engineer with the Kansas Department of Agriculture's Division of Water Resources, said the report doesn't go into detail about the technology that might allow new hydropower development in Kansas, but adding turbines to existing dams might be the best bet.
"I think that's realistic and something that's being examined," he said.
The Kansas River doesn't have much potential for additional hydropower, Barfield said. The Missouri River is more promising. The report also showed high potential for hydropower growth in the Arkansas River, but that doesn't seem likely because the area is flat and the river often doesn't flow above ground, he said.
"I'm not trying to downplay the value of looking at hydropower, but I'm puzzling over the numbers," he said.
Kansas officials also point out the permitting issues of building new dams, especially on the Missouri River, where owners would need permits from two states. In addition, previous proposed projects have not been cost competitive.