A project by a group of Tennessee high school students to make and promote biodiesel garnered an environmental award in that state. The Whites Creek High School group is the winner in the Excellence in Energy and Renewable Resources category of the 2014 Governor's Environmental Stewardship Awards, which this article in the Chattanoogan says recognizes exceptional voluntary actions that improve or protect our environment and natural resources with projects or initiatives not required by law or regulation.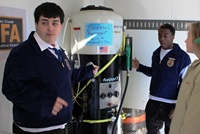 Students from Whites Creek High School recently drove across Tennessee on fuel that they made from agriculture product, soybeans. They were able to achieve this by using 15 bushels of donated soybeans and converting them into biodiesel in their energy laboratory at the high school. They were able to extract 12 gallons of biodiesel from their process which allowed them to drive across Tennessee from Kentucky to Alabama in a Ford F250 farm truck. Along the route, they traveled to other high schools and the students taught other FFA members the mechanics of biodiesel production with their mobile lab. Whites Creek High School has a three-year program called Academy of Alternative Energy, Sustainability and Logistics. During the three year program, they study wind energy, solar energy, biodiesel, ethanol, the hydrogen car, nuclear energy, greenhouse gas, and have hands on experience on the adjacent farm to the high school.
The awards will be handed out in ceremony to be held in Nashville on June 23.