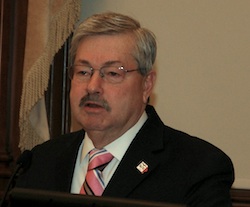 As members of a federal task force visit Iowa and say that "climate change is here and now," that state's governor says biofuels, which are also here and now, are at least one way to fight the changes in climate. This article in the Waterloo Cedar Falls Courier says this is the third meeting of the White House task force and comes on the heels of the recent Obama Administration's National Climate Assessment that says climate change could bring disastrous results for agricultural areas, such as Iowa, "including prolonged periods of heat, heavy downpours, and in some regions, floods and droughts." Branstad makes the case that if the government followed the law on the Renewable Fuels Standard (RFS), many of these issues would be dealt with.
"Climate change is here and now," said Mike Boots, acting chairman of the White House Council on Environmental Quality.
He ran down a list of some of the effects of climate change being experienced in the Midwest, such as poorer crop yields because of heat and torrential rains that overfill river banks and wash away topsoil.
Iowa Gov. Terry Branstad did not attend the event as he was traveling the state for a series of community tours, Branstad spokesman Jimmy Centers wrote in an e-mail.
"Gov. Branstad believes that as government officials travel to Des Moines they should focus on reducing transportation emissions and our dependence on overseas oil, diversifying our nation's energy portfolio and supporting the growth of the Midwest economy through a strengthened Renewable Fuel Standard," Centers wrote.
White House officials say the RFS was not discussed during the symposium. Recently, the U.S. Environmental Protection Agency recommended reducing the amount of ethanol and biodiesel to be mixed into the Nation's fuel supply. Farm-state governors, such as Branstad, have blasted the agency for that recommendation and hope to get it reversed before it is due to be finalized within about a month.