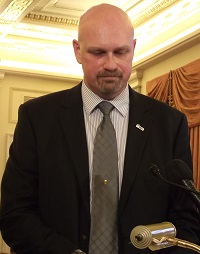 The manager of a biodiesel refinery from the Nation's largest biodiesel producer believes the uncertainty in the green fuel's future will disappear. I caught up with Bryan Christjansen, a general manager for Renewable Energy Group's Albert Lea, Minn. and Mason City, Iowa plants, shortly after a news conference where several biodiesel producers joined with a group of U.S. senators to decry the uncertainty brought by the government's proposal to lower the amount of biodiesel to be mixed into the fuel supply and Congress' failure to renew the $1-a-gallon federal biodiesel tax incentive.
"Some of the things happening here on Capitol Hill, as well as in the White House, are not good for our industry. We are here, and [Congress and the Administration] have helped us get to this point, and we need to continue to grow this industry through what you guys have created already," he said.
While Bryan said that the current Environmental Protection Agency (EPA) proposal on the Renewable Fuels Standard is hurting the biodiesel industry by causing so much uncertainty, he is certain that will change.
"With this [news] conference and the open comment period with the EPA, I think we've voiced our opinion that we need to reduce our dependence on foreign oil, and what better way to do it than by producing biodiesel."
You can hear my conversation with Bryan here: Bryan Christjansen, REG manager
And you can hear what he and other producers said here: Biodiesel Industry Concerns
And what the U.S. senators attending the news conference said here: Senators Voice Biodiesel Concerns