Phelps, New York – based Halco Energy is deploying 25 vehicles powered by propane autogas in their service and installation fleet. The company provides residential and commercial renewable energy solutions including high-efficiency heating and cooling systems; home energy audits; and envelope improvements including insulation, air-sealing, and clean renewable energy systems. And now the company is "walking the walk" with its fleet conversion to propane autogas.
The company is now sporting 16 Ford E-350 cargo vans and 9 Ford F-250 pickup trucks equipped with ROUSH CleanTech propane autogas fuel systems. The conversions were funded, in part, by a $200,000 grant from the Genesee Region Clean Communities. The domestically fueled vehicles will help the company drive down fuel and maintenance expenses by an estimated $600,000 and reduce their carbon footprint by more than 1.6 million pounds over thee lifetime of the vehicles.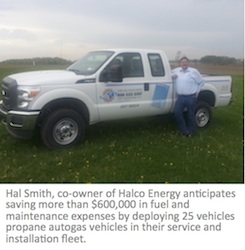 "We're in the renewable energy business so doing the right thing for the environment is very important to us," said Hal Smith, co-owner of Halco Energy. "We were looking for a fuel that's cleaner, better for environment and less costly. With propane autogas, we are optimistic that we've found a great solution to meet these needs."
Halco Energy is working to install a 16,000-gallon on-site fueling station but in the meantime they will fuel the vehicles at a local public station. According to ROUSH CleanTech, the infrastructure for propane autogas is less expensive than any other alternative fuel, and with thousands of stations across the nation, propane autogas already has the largest public refueling infrastructure of all alternative transportation fuel options.
"Energy efficiency is our life, so for us, propane autogas, has been a no-brainer," said Smith. "By deploying propane autogas vehicles in our fleet, we're helping our pocketbook and the environment at the same time. I just wonder why more companies aren't doing the same thing."
A 2013 recipient of the national "Home Performance with Energy Star" award, Halco Energy aims to transition 75 percent of their total fleet to propane autogas over the next four years.