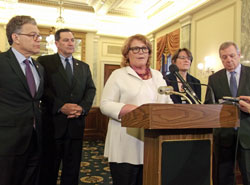 Normally, they would be considered pretty staunch allies of President Obama. But a group of Democratic U.S. Senators have taken the Administration to task for its handling of the Environmental Protection Agency's proposal to drastically reduce the amount of biodiesel required to be blended into the Nation's fuel supply.
"The EPA's preliminary November rule will be disastrous," said Illinois Senator Dick Durbin, normally one of the president's closest allies in the Senate, adding how the proposal is causing grave uncertainty in the biodiesel market. "We need more certainty of growth in this industry that is going to keep creating good paying jobs right here in America and serve the needs of America's energy future."
North Dakota Democratic Senator Heidi Heitkamp put the group together and echoed Durbin's sentiments. She cited a new National Biodiesel Board survey that shows that nearly 80 percent of biodiesel operations have reduced production, nearly 60 percent idled production altogether or shut down a plant this year; two-thirds have reduced or is expecting to reduce their workforce, with 85 percent delaying or cancelling expansion plans. And just about every biodiesel producer surveyed blamed their reductions on the weak RFS and Congress' inaction to extend the federal biodiesel tax credit.
"If you look at what this industry depends on from the U.S. Congress, it's certainty, it is some measure of consistency in public policy. And I have to tell you, on that score, we have failed miserably," Heitkamp said.
Minnesota's Sen. Al Franken said he has talked to the President and EPA Gina McCarthy about this proposal and reiterated his belief that this is the wrong signal to investors… especially at a time when biodiesel's sister fuel, cellulosic ethanol, is gaining support.
"This is not the time to tell investors that we're backing off," Franken said. Later on, Franken said his disappointment with the current RFS proposal is pretty obvious, while fellow Minnesotan, Sen. Amy Klobuchar said they were all stunned by the lowering of the amount of biodiesel to be blended.
"We knew they might make some changes, but it was fairly drastic when you look at the numbers," pointing out that ethanol's numbers are down 1.4 billion gallons below 2014's target and only 1.28 billion for biodiesel this year… a drastic reduction from 2013's approximately 1.7 billion gallons produced.
Indiana's Sen. Joe Donnelly said it wasn't the right move by EPA, but it could be fixed.
"They just made the wrong call. They have a chance to fix this and get it right. And what we want to do is make sure they have the right information, all the information they need, and if they do, then we're expecting the right decision," he said.
Sen. Maria Cantwell from Washington state said one way she believes they can help is to change the federal tax incentive from a blender's to a producer's credit.
"We hope this will also produce some more predictability and certainty in the industry."
Listen to the senators' opening statements here: Senators Voice Biodiesel Concerns