In the last couple of weeks there have been two derailments of trains carrying crude oil, one in Virginia on April 30 and one in Colorado on May 9. These incidents are just the latest in a string of accidents that began last summer when a runaway oil train carrying Bakken crude derailed and exploded in Lac-Megantic, Quebec, killing 47 people. Other trains carrying Bakken crude have derailed and caught fire in Alabama, North Dakota, and New Brunswick, Canada.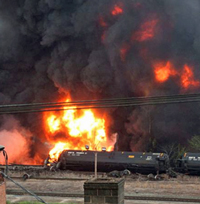 While crude oil has been the common denominator in these accidents, ethanol has been caught in the cross fire despite its nearly perfect safety record in rail transportation.
In this edition of "The Ethanol Report," Renewable Fuels Association (RFA) president and CEO Bob Dinneen discusses the safety record of ethanol shipments via the DOT-111A railcar, RFA's program of safety training and best practices within the ethanol industry, and the need to focus on the root cause of recent derailments, track conditions and human error, and not exclusively on railcar design. Most importantly, he emphasizes "ethanol is not oil."
Ethanol Report with RFA president Bob Dinneen on rail safety
Subscribe to "The Ethanol Report" with this link.