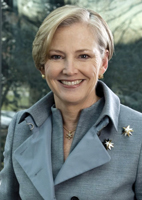 The CEO of DuPont today called on Congress and the administration to preserve Renewable Fuel Standard (RFS).
In a keynote speech at the 11th Annual World Congress on Industrial Biotechnology, DuPont Chair and CEO Ellen Kullman said preserving the RFS would ensure regulatory stability for the renewable fuel industry and continue to encourage "private investment from companies like DuPont to create a sustainable bio-based economy."
"Legislative and regulatory uncertainty has a direct impact on the growth of this industry," Kullman said. "If the EPA issues an RFS rule with increasing biofuels volumes, supporting a stable regulatory environment, our industry can thrive."
DuPont has invested heavily in the future of renewable fuels and will soon complete one of the world's largest commercial-scale cellulosic ethanol biorefineries, set to open in Iowa later this year. DuPont committed over $200 million to the project, which will yield 30 million gallons of cellulosic ethanol per year, produced from corn stalks, leaves and cobs left in fields after harvest.
Kullman attended the BIO World Congress to accept the 2014 George Washington Carver Award, which each year honors one individual in the private sector, government or academia for leadership in using industrial biotechnology innovation.