According to a new report from GlobalData, significant growth in market demand and attempts to reduce a number of costs are fueling a module production outsourcing trend among the world's leading crystalline module manufacturers. Ankit Mathur, GlobalData's Project Manager for Alternative Energy, said that out of the top crystalline module manufacturers – Yingli Green Energy, Trina Solar, Sharp Corporation, Canadian Solar and Jinko Solar – only the latter company and Trina Solar are able to utilize their own module production fabrication lines without the need for outsourcing.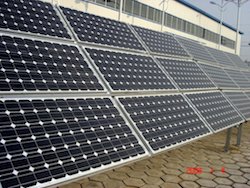 Meanwhile, Mathur continued, the other companies, including Yingli Solar, have a less-than-68 percent factory utilization rate. However, these firms are still able to boast substantial module manufacturing under their own brand names by outsourcing their production to Original Equipment Manufacturer (OEM) partners.
"Sharp Corporation's recent announcement that it will outsource its entire module production from 2014 signifies that most of the leading companies are taking the outsourcing route," said Mathur. "This is due to a massive increase in global market demand, which is difficult for manufacturers to meet using their existing production capacity. Attempts to reduce other costs, such as logistics costs related to transporting modules from the factory to the customer, are also contributing factors."
Until last year, key manufacturers could leverage upon plummeting silicon prices to reduce module production costs. However, the expected price recovery of polysilicon in 2014 will make it difficult to implement such reductions further. As a result, said Mathur, companies will either outsource their entire production capacity to OEMs, or produce a certain proportion of modules from their production lines and source the rest from OEM partners.