There is an updated version of "The Training Guide to Ethanol Emergency Response," prepared by the Renewable Fuels Association (RFS) available for use. The resource was developed to give first responders, hazmat teams, and safety personnel in-depth and accurate information on proper training techniques when responding to an ethanol-related emergency.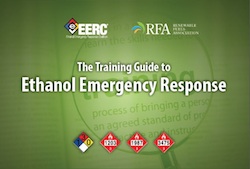 The training guide has been used at Ethanol Safety Seminars and distributed to more than 10,000 responders worldwide. RFA and TRANSCAER® began offering Ethanol Safety Seminars in 2010 and have since held more than 100 Safety Seminars in 21 states. RFA is a national sponsor of TRANSCAER®, a national outreach effort focused on helping communities prepare and respond to possible incidents involving the transportation of hazardous materials.
Kristy Moore, the Renewable Fuels Association's vice president of technical services and a recent recipient of the TRANSCAER Individual Achievement Award, said, "RFA's commitment to safety is unwavering. There is no reason that a first responder should have to go into a potentially dangerous scenario unprepared. That is why the Renewable Fuels Association took the initiative by first creating, and now updating, the 'Training Guide to Ethanol Emergency Response'."
The updated "Training Guide to Ethanol Emergency Response" includes former goodies along with new resources.
Eight PowerPoint sections covering topics ranging from ethanol's physical properties to ethanol's transport and use
Instructor manuals and participant guides that work in conjunction with the PowerPoint
Two training videos: "Emergency Response Considerations" and "Responding to Ethanol Incidents"
RFA's "Fuel Ethanol Guidelines for Release Prevention," which explains environmental response techniques
Rail Car 101, a PowerPoint showing critical safety equipment on non-pressure railroad tank cars
2012 U.S. Department of Transportation Emergency Response Guidebook
Association of American Railroad's "Pamphlet 34 – Recommended Methods for the Safe Loading and Unloading of Non-Pressure (General Service) and Pressure Tank Cars"
Association of American Railroad's "Tank Car Loading and Unloading" video
Training materials can be found here.